Affiliations
We are signatory with Pipefitters Local Union 537, Sheet Metal Local 17, New England Mechanical Contractors Association, and Sheet Metal and Air Conditioning Contractors' National Association.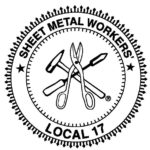 JEC Service Company is a dedicated and top performing Mechanical Piping, HVAC Service, and Sheet Metal contractor servicing the greater Boston area.
Our team has extensive background in new construction, sheet metal, renovations, and service working across many different markets such as, commercial, institutional, and multi-housing clients.
Based in Waltham with a fabrication shop in-house, our trusted experienced staff works in partnership to make your next project a success through competitive pricing, scheduling, and the most cost effective approach.
We manage and partner with clients on large-scale, small and specialty projects from new construction to service maintenance. Our dedicated and responsive service department works very closely with the construction team during start-up and provide HVAC service, refrigeration and maintenance contracts.
Call us at 617-268-3800 or fill out our contact form.
Our Management Team